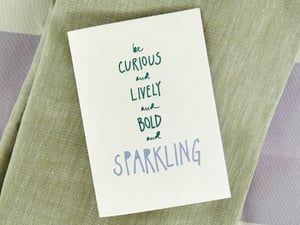 $

4.00
"Be curious and lively and bold and sparkling"
Inspiration for someone embarking on a new endeavor or phase of life, such as graduation from high school or college, a new job or city, a milestone birthday (someone turning 20? or 30? or 40? or 50?), a new marriage or relationship, an adventurous trip... We also love this for an everyday wish to a friend.
A beautiful and encouraging sentiment worthy of keeping on a window sill or desk... or putting in a frame for a special, more permanent home.
Blank inside with matching white envelope.